Assistance, science and solidarity, these were the issues addressed in the annual meeting of the Consortium of Bologna's Ancient Institutions.
The Consortium was held on Friday, October 13, 2017, in the guard room of the Palazzo Caprara Montpensier, the current offices of the Prefecture of Bologna. This year, the theme of the annual event of the Consortium of Bologna's Ancient Institutions was based on the title "Assistance, Science and Solidarity." The conference was opened by the speeches of the Prefect Dr. Matteo Piantedosi and the Archbishop Mgr. Matteo Maria Zuppi, together with the Consortium's Coordinator, Prof. Roberto Corinaldesi.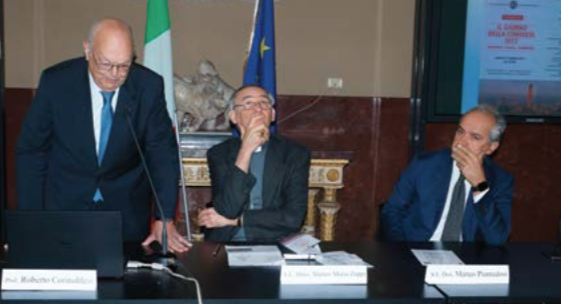 The Consortium of Bologna's Ancient Institutions was formed in 2002 with the following intents represented in the statutes: [Trad.] "To establish a network of organizations whose purposes may vary, but have over time fostered initiatives for people in difficult conditions, aiming at the cultural growth of the citizens of Bologna while actively promoting the historical continuity of the city of Bologna." In his introductory speech, Prof. Corinaldesi provided the public with a historical overview of the establishment of the Consortium and the institutions that are part of it, some of which were presented in more details by conference speakers. In particular, the Società Medica Chirurgica di Bologna (1802) with Prof. Corinaldesi, the Istituzione Asili Infantili di Bologna (1847) with Dr. Vittorio Manaresi, the non-profit organization Istituto Case di Riposo S. Anna e S. Caterina (1875) with Dr. Gianluigi Pirazzoli, and finally the Comitato per Bologna Storica e Artistica (1899) with Carlo De Angelis, architect.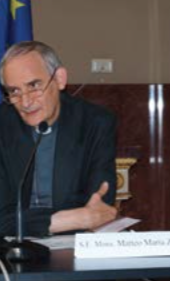 At the opening of the day, Dr. Piantedosi emphasized how the history of the city of Bologna can be found in the experience of the Ancient Institutions, and the same concept was reiterated by Msgr. Zuppi who recalled their history of commitment and intelligence, of little exteriority with a lot of content, fully grasping the sense of association between the Ancient Bolognese Institutions with this declaration by Gustav Mahler: "Tradition is not the worship of ashes, but the preservation of fire," which was also noted by Valentino Miserachs Grau, the Director of the Liberian Musical Chapel in remembering the importance of tradition in the development of cultural modernity. The words Mgr. Zuppi has dedicated to Cavazza were particularly moving: "A place of extraordinary excellence for the past and present insights it offers in addressing challenges and transforming them into opportunities." In his interview with Repubblica in preparation to Pope Francis's visit to Bologna, Mgr. Zuppi was asked the following: "Where would you bring your friend Jorge if no one was sawing you?" He replied: "I would like to visit some of the places where the city's intelligence and tradition have formed a repository of wisdom and knowledge: I am thinking about the Istituto Cavazza or the Rizzoli."