The Waterways of Bologna have enriched the city's cultural as well as artistic and symbolic heritage.
Told by some personalities, even the stories we heard most take on a different relevance: less commentary, focusing on the relation between the things that are visible to all and those that are most invisible. To say that Bologna is crossed by an underground system of water canalization is well known. In the womb of the city, waterways feed artisan shops, factories and public fountains. Water has enriched the city's cultural as well as artistic and symbolic heritage. The now hidden water has been studied for decades by art historian Angelo Zanotti.
This is the title of his book which reveals the skills and knowledge one must have to study Bologna's underground water networks: the skills to dig into the archives and to reach underground to observe and touch. He began studying underneath the surface of the ground as part of his job at the Environmental Defence Office of the Municipality of Bologna. But it is as part of his DAMS studies, at the suggestion of his professor and superintendent Andrea Emiliani, that he began an in-depth study for his degree thesis. In Emilia, the cultural heritage is not only made up of major masterpieces, but of the elaborate system built around it and of its landscape.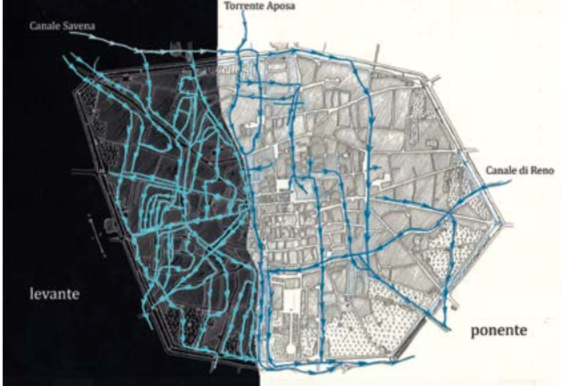 We are working with Angelo Zanotti at the Tolomeo Museum to complement the historical map of mobility with a tactile map representing the water labyrinths. Through the story an image is formed in our mind: the system of streets of the historical city is laid on a promontory, an extension of the obvious hills even for those travelling by bicycle, and organized along a north-south axis. The watershed ridge begins from Via Rubbiani down to Capo di Lucca. To the west it is crossed by the water system of the Reno Canal; to the east from the waters of the Savena Canal. Via Castiglione hides the main stretch of the Savena. The Aposa, the only torrent that crosses the city, is close to the ridge: from Via Avesella, touching the two towers, it arrives in Capo di Lucca where the water systems flow together to form the Navile Canal.
At the centre of this double system stands the city's fountain built for the people: the Fountain of Neptune. The fountain, the work of Giambologna, and the Fontana Vecchia of Via Ugo Bassi are fed by the waters of the Remonda source and of the Conserva di Valverde which, coming down from Via d'Azeglio, arrive in the square, drawing beneath the pavement a tree of life formed by lead pipes. The complex water system, through its history, is still able to bring out symbols, architectural elements that are the bridge between our present and the local history to which we belong. Water always remains a witness to the cycle of life.