We shall never forget those who, in a not too distant past, found only barbarism.
Gen. Lanfranco Roccetti, Former Commander Special Unit AUC
In this season that invites us outside to enjoy the sun along the beautiful Via Siepelunga towards the hills of Bologna, it is hard to believe that this winding and welcoming street was the scene of bloodshed. However, it is here, at number 67, that we find Villa Camponati, known in the city with the disturbing nickname of Villa Triste. This is how were known the places used by Nazi-Fascists for detention and torture in the last years of the Second World War. Unfortunately, there are too many Villa Triste throughout Italy. In Milan, Rome, Florence, Genoa, Trieste and even here in Bologna, homes have been converted into places dedicated to terrible practices. Between 1943 and 1945, there were many occurrences in the city characterized by the violence of punitive measures against partisans perpetrated by the German Command and by the forces of the Italian Social Republic (RSI, also known as the Republic of Salò).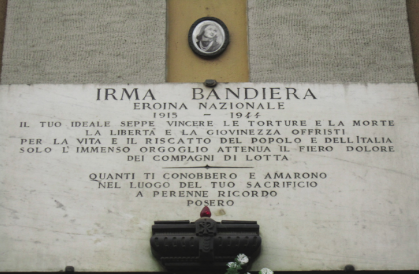 Torture, executions, ransacking are the order of the day. On Via Siepelunga 67 resided police commissioner Tebaldi. His villa became the headquarters of the Special Autonomous Company, the terrible CAS, led by Captain Renato Tartarotti. With a long military career behind him, Tartarotti became the bodyguard of police commissioner Tebaldi who placed him at the head of the autonomous department of the auxiliary police dedicated to the repression of the rebellion movements of the partisan struggle. This special division was not officially classified within the Department of Public Safety, it was in fact an autonomous, brutal group, focused on intimidation and profit-making actions. It is in this role that Tartarotti, taking advantage of the collapse of the democratic fabric of the city and of the entire nation, became the protagonist of bloody crimes. In the basement of Villa Triste, among many others, Irma Bandiera was tortured for six days and six nights. She was decorated posthumously with the Gold Medal for Military Valour and the Arco del Meloncello – where she was shot – was later given her name. Captain Tartarotti escaped in 1944 and continued to spread terror until he was incarcerated in the Brescia prison from which he managed to escape. Captured on Lake Garda, he was brought back to Bologna in May 1945.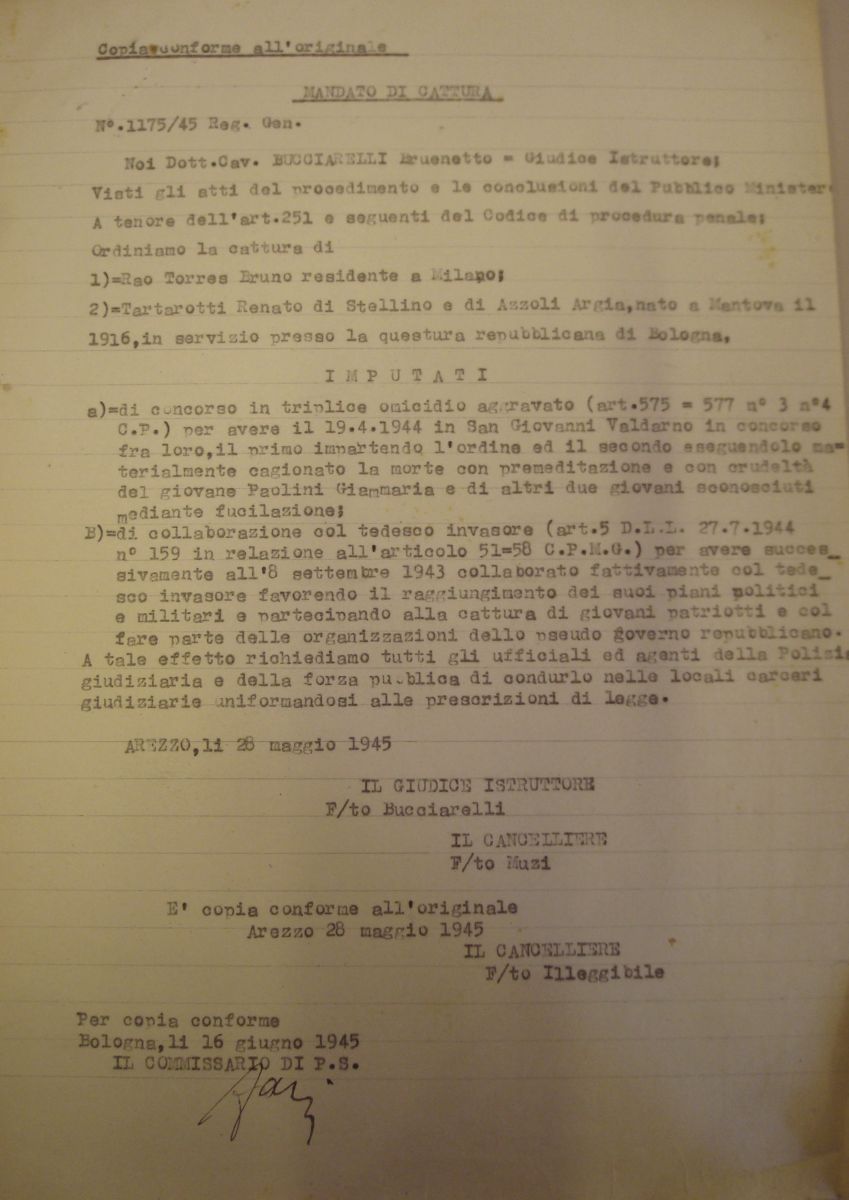 He was tried and sentenced to death by shooting. So today, when we stroll around in these quiet streets which were devastated by bombings, raids, kidnappings and criminal activities, it does seem strange to learn that people, because they operated in years of civil war, were able to perpetrate criminal abuses. When we walk along Via Siepelunga when the beautiful weather is here, let us open our heart to the enchantment of life awakening after the long winter. Let us not forget who in this street, in a not too distant past, found only barbarism.