Matteo Stefani and Sara Savini
The story of two different sensibilities that make us overcome the concept of vision connected to sight alone and bring "seeing" back to the interconnection of all the senses.
It has been a few years, precisely since 2015, that I have been attending the Anteros Museum, first as a user, being blind, then as a contributor, and certainly these last two years have been the most challenging, as is understandable. Despite Covid, except when operations in museums were on hold, we still managed to continue our activities welcoming visitors even if in a reduced form. Among them is Sara Savini, a photographer who recently graduated from the Academy of Fine Arts in Bologna, with whom I explored on multiple occasions some bas-reliefs. Below is my interview with Sara after my visit to her Aptico photography exhibit which concluded last January 14th.
Would you briefly tell me your story and how you got into photography?
I was born in Roseto degli Abruzzi, in a small town near the sea, and I started taking pictures thanks to a neighbour who gave me a small digital camera at the age of ten. From that day my life changed, I loved capturing everyday moments or building sets to take photos.
How did you then develop this passion of yours?
I decided to pursue this passion throughout my studies. My last diploma is a Master in Photography at the Academy of Fine Arts in Bologna.
What does it mean to you now? What role does taking photos currently play in your life?
Today photography means making my thoughts tangible through the medium of photography. I investigate issues such as inclusion, blindness, and the perception of the concept of vision in contemporary society. Photography allows me to transform into an image everything that we apparently do not see in our daily lives and pushes me to reflect on what an image means, that is not a solely retinal product but also created through the interconnection of our senses.
How do your photos come about?
Currently, my photos stem from the concept of vision, which in today's world, has mainly a use related to sight. In fact, sight is something closely intertwined with the senses allowing us to construct the space in which we live daily.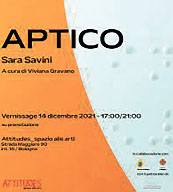 Would you tell me about your latest exhibition?
My exhibition opened on December 14, 2021, and closed on January 14, 2022, at Attitudes gallery–a space for the arts in Bologna. It was curated by Viviana Gravano and Loretta Secchi, under the auspices of the Istituto Cavazza, whom I would like to thank immensely. The Institute also gave me the opportunity to print the exhibition's legends and texts in braille. The project titled Aptico was born from an urgent need to raise social awareness around the issue of accessibility. In this work my focus is on braille. In addition, the photographic medium allowed me to isolate from their context the braille dots on medicine and food packages and transform their sculptural nature into a photographic image of a two-dimensional nature.
Could you give me a general description of the material you have displayed?
Precisely, I exhibited eighteen photographs of different sizes printed on photographic paper and mounted on a Dibond panel with a 2 cm spacer from the wall, which gives a sort of three-dimensionality to each work on display. Inside the exhibit were eleven photographs that were arranged according to the braille alphabet creating the word SEE. Each image was accompanied by a caption showing the letters in the work in both braille and black.
Why display visual images with the braille code which is primarily used as a tactile code for those who cannot see?
I wish people would focus more on observing it. That they would raise awareness of the importance of introducing braille name and expiration dates in everyday products, such as food, medicine, or beauty products.
What is the significance of the braille dots in your work?
The dots are like a sort of primer to push people to read and learn it, as it is a very useful medium for writing and reading. In fact, I have placed next to each photograph, a caption where the meaning of the word is written in black writing and in braille. It is also a reflection on what it means to "write."  Let me explain: in the contemporary world we live in a situation where writing and reading are something "seen with the eyes." In my opinion, today's society should embrace braille writing more because it allows us to explore the sense of touch and make communication more accessible.