Giuseppe Comuniello's life in motion.
Just over thirty-five years old, Giuseppe Comuniello seems to have lived a thousand lives. Pastry chef, passionate rider, he learned in 2007 that he had congenital retinitis pigmentosa. The disease that, with the passing of time, has completely deprived him of his sight, was the springboard towards Giuseppe's new life. Supported by his family and personal strength, he went back to school at age 28 and learned how to live without the help of his eyes. He then dedicated himself to sports and, training after training, he became a swimming champion. He participated successfully in team championships with the Paralympic Committee and in Italian championships for the blind, winning gold and silver medals. If water is his element, so much so that he is also an experienced diver, Giuseppe discovers the expressive potential of his body in space as well, becoming a well-established dancer. Under the guidance of Florentine choreographer Virgilio Sieni, he became the protagonist of successful performances with blind and sighted professional dancers. Then, together with Gaia Germanà (MUVet), he puts together a series of workshops and meetings, at the Cavazza Institute, on the subject of gesture transmission.
Losing sight in adulthood means, in some ways, rebuilding your existence into a new perspective, both physically and psychologically. How did you do that?
I think that having to rebuild my life was my gain. I was so taken up by what I had to learn and how much I could give, given my past, that I did not walk down the terrible route of despair and depression. I was incredibly lucky that when I was really down I met fantastic people who were able to give me the right motivation focusing on my competitive spirit and perhaps my ego, rather than my understanding.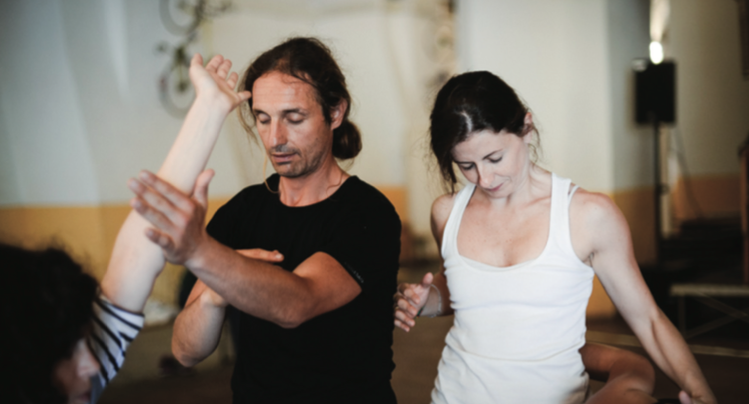 What does it mean for you to move in water and space?
I'm curious, I still feel like a child who has just started to understand how much his body can do and can give others while in motion. In the case of dancing, it can express and experience special moments for others as well. With this awareness I throw myself into anything I do not know by gaining special and enriching introspective experiences. Having to do a thousand things, I realized that everything gave me something and that I can call upon this multitude of feelings while dancing, or when I am giving workshops.
As a professional dancer, you have the ability to describe the world, reaching even blind audience members. How does the audience participate in your performances?
By bringing them into the world I am trying to recreate on stage. When people tell me that they feel they have been taken away on a journey with me, I'm on cloud nine.
Our society, despite new technologies as great communication tools, seems to have lost the ability to listen meaningfully to the other. As someone who has the skills to truly enhance perception through movement, what advice would you give to really come into contact with someone?
We must rediscover how good it is to be able to touch and listen to the emotions of others felt through touch, not only those transmitted by purely visual expressions. When we have very close relationships with other individuals, it is normal to touch and there is truly so much pleasure in this. Instead, we have the tendency to avoid touching others.
The body is still perhaps the only way a person can express their identity in an authentic way. How can we learn to listen to what others tell us?
I think the wonderful thing about the body, as an entity that wants to express itself and be moved by feelings, is that it cannot lie, it is always true and direct. That is why we have to find a way, by dancing or by any other way, to embrace our body with its bones, muscles, tendons, as well as the energy flowing through it.
In the movie Billy Elliott, the young protagonist dancer explains the feelings he is experiencing when dancing saying: "I sorta disappear. Like I feel a change in my whole body. And I've got this fire in my body. I'm just there. Flyin' like a bird. Like electricity. Yeah, like electricity." And you?
Instead, I feel like I am travelling with my mind, going places, there is no longer any gesture or movement that needs to be executed. That's already in my body, working independently, but my mind, on the contrary, enjoys the feeling of wanderlust. When I perceive this moment, then everything changes around me, the audience, my companions. We all really feel something special flooding and lingering through space.
As a blind person, have you faced difficulties throughout your professional career?
Difficulty not per se, expect that when it comes to trying new things, people around me often feel concerned teaching me or understanding my work. But I would not call that difficulties, on the contrary. They motivate me in making people understand how much dancing and its myriad flavours are important to me.
What advice would you give young people who would want to pursue a career such as yours?
I would advise them to get out there, to feel things even if it may seem ridiculous, even if they feel exposed.
What are your projects for the future?
To continue in this direction which has so far led me little by little, without me realizing it almost, to travel and show around the world my way of dancing, learning from others and, I hope, having an impact as well on people working in the art sector in general.