It had a short life, and, despite its poor reputation, it was a popular theatre much loved for its performance programming.
On our journey in search of Bologna's long-gone theatres, here we are on Via de' Giudei where we can imagine here the San Gabriele Theatre in Porta Ravegnana, located in a former oratory. In 1798, following the advent of Napoleon, the congregation that met in that venue was dissolved and the whole building was sold to Pellegrino Coralli who, in 1810, asked for a license to open a theatre to propose a type of show that was very popular in Bologna: marionettes! In the premises, which could accommodate more than a thousand spectators in its boxes, Coralli had everything he needed (custodians, attendants, ushers, orchestras, posters) and so, the following year, in 1811, he began to propose his seasons.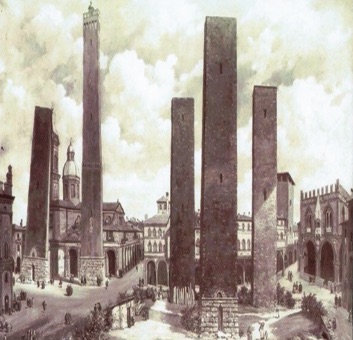 But in 1812 occurred a major change: The marionettes remained only at carnival, while for the rest of the year performances of a different kind were scheduled. There came the names of the most popular artists, such as the dramatic companies of Romualdo Mascherpa and Arrisi-Androux or Antonio Chiarini's acrobatic company of dancers and rope jumpers. The San Gabriele was a popular theatre of dubious fame but, despite its bad name, it attracted a loyal audience and with its bizarre comic-musical appeal - as was written in chronicles - it always attracted large crowds. As when, for example, the representation of Bertoldo, Bertoldino, Marcolfa and Cacasenno was organized, adorned with farming clothes and tools, rural instruments, four-legged animals. The City Council issued precise provisions on opening hours: the shows had to begin at sunset and end before began those of the neighbouring theatres (like the Marsigli, Contavalli and community theatres) so as not to have public order problems!
Among all those performances, the most "bizarre" show in the life of San Gabriele was surely the ballet Prometeo, Ballo spettacoloso, already proposed in Milan and Vienna (and in that case even with music by Beethoven!), performed with automatons in 1814. This is the swan song, however, because a few months later, in 1815, came the order to close. The Restoration, with the return of the Pope and the departure of the occupying troops who up to that moment had represented the most loyal audience of the theatre, marked the end of the venture. And here is the epitaph by Guidicini: "Everything which was used while it was a theatre was taken out, and the bare church served as a hemp warehouse."