Do we want to review the situation?
And this one is done too! Parliament finally adopted the law called "Thousand Extensions" that contains, along with many other measures, the refinancing of Ancona's State Tactile Museum Omero. This happily concludes an odyssey filled with anxieties and fears, after the black smoke of the Stability Law, this finally gives back smiles to our faces. Mind you, we are not richer than before. We were allocated the same amount as the last few years, but what matters is the certainty of being able to rely on secure resources. And in times like these...
Results never come without effort, and our commitment, which was supported decisively and effectively by the Italian Blind Union, contributed to the delivery of the desired outcome.
The Omero Museum is moving on seemingly unaffected by political and bureaucratic barriers. In recent years, it changed its location and moved in 2012 from a school wing to a prestigious venue: the Mole Vanvitelliana, built in the 18th century by the well-known architect, is constructed on an artificial island in a body of water. A beautiful place where our Museum can take advantage of an area of 3,000 m2 to develop its activities.
The result was immediately tangible. Since then, the number of our visitors has risen in a few years from about eleven thousand to twenty-five thousand entries, making it the fourth state museum of the Marches.
Its activities extend far beyond the Alps and the Adriatic. We have been invited to seminars and conferences in Paris, Moscow, Tokyo, Katowice, and Split. We have exported our exhibitions to Poland, Croatia and the Czech Republic. We have also had partnerships with many foreign museums, including the Louvre and the British Museum. We have hosted interns from eight foreign countries.
In Italy, the Omero Museum has become a reference for accessibility issues to cultural heritage. Operators from the most important museums in Italy have attended training courses here.
Visually impaired people can get close to the greatest masterpieces of sculpture as in a sort of three-dimensional encyclopedia that allows the tactile exploration of perfect copies and models of some famous monuments. They can also learn to know and admire sculptures of many twentieth-century masters. Original works are exhibited in a great variety of materials: bronze, marble, stone, tile wood, etc. And they all can be stroked with curiosity and love by the hands of blind visitors. Martini, Marini, Messina, De Chirico, Consagra, Bodini, Trubbiani, and also Pomodoro, Vangi and Pistoletto - just to name a few - reveal with their sculptures the wonders and challenges of the 20th century.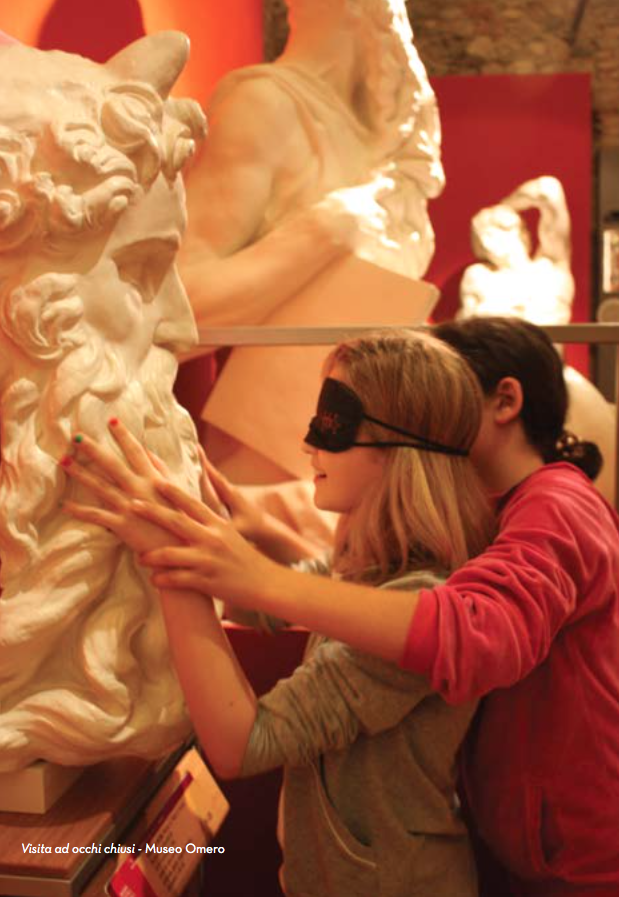 Moreover, the Omero Museum, among its many temporary exhibitions, has in recent years proposed important events by placing in the hands of blind and visually impaired people exhibitions dedicated to Manzù and Messina, Trubbiani and Annibali, not to mention also some great masters of the Renaissance.
We said in the hands of blind and visually impaired people. The philosophy of our Museum has always intended not to create a space for blind people only, but a genuine cultural integration tool: a museum without barriers truly designed for everyone. Visually impaired people learn to discover art treasures, to which otherwise they do not have access, and sighted people discover together with them the intriguing charm of the tactile approach.
And so we can launch a challenge to the traditional approach: who said that sculpture is a visual art? And why should museums give priority in their proposal only to sight? In short, we propose the ambitious goal of challenging the principles of museology following a path that can be travelled by those who do not see and those who see, as well.
With this assumption, we have also created an online magazine with so far two issues. Its title Aisthesis refers to feelings, senses, and sensitivity, and is meant to be an instrument of approach to this question through a strictly scientific commitment. Aisthesis can be downloaded free from the website www.museoomero.it.
Surely it is not always bread and roses for the Omero Museum. Unfortunately, in our country reigns a powerful enemy to ingenuity and initiative: bureaucracy.
Because of this indomitable monster, there is a knot which is difficult to unravel and that has been preventing us for a few years to implement the Omero Museum's final project. But our stubbornness will prevail!
We envisage a very modern museum, conceived and designed by an international scientific committee. The setting will not be chronological but thematic and will allow the dialogue of works belonging to seemingly distant contexts. Sections dedicated to archaeology will be largely developed, with the reproduction of prehistoric environments and even a Roman trireme, and architecture with special attention to the comparison of different types of urban plans.
An electronic guide for the autonomy of blind and visually impaired visitors will use the best and latest technological products.
In parallel we are working on the creation of a new section of the museum dedicated to the history of "Made in Italy".
This will be a gift of Diego Della Valle family.