Francesca, a staff member of the Istituto Cavazza, knows she is no longer the same person after her 1,743 km trip, now understanding the value of what is essential.
It is seven o'clock in the morning of July 22, 2018. Leaving Bologna with the goal of going to Sicily... on my bike... My adrenaline is pumping! Let's go! You need all the energy you can get to cross the Futa and Raticosa passes, and then the Apennines. There is a height gain of 968 metres to reach Florence. The second stop is in Arezzo. As I look at the altimeter chart, I'm beginning to think that I'm looking at the wrong screen, at the heart rate monitor.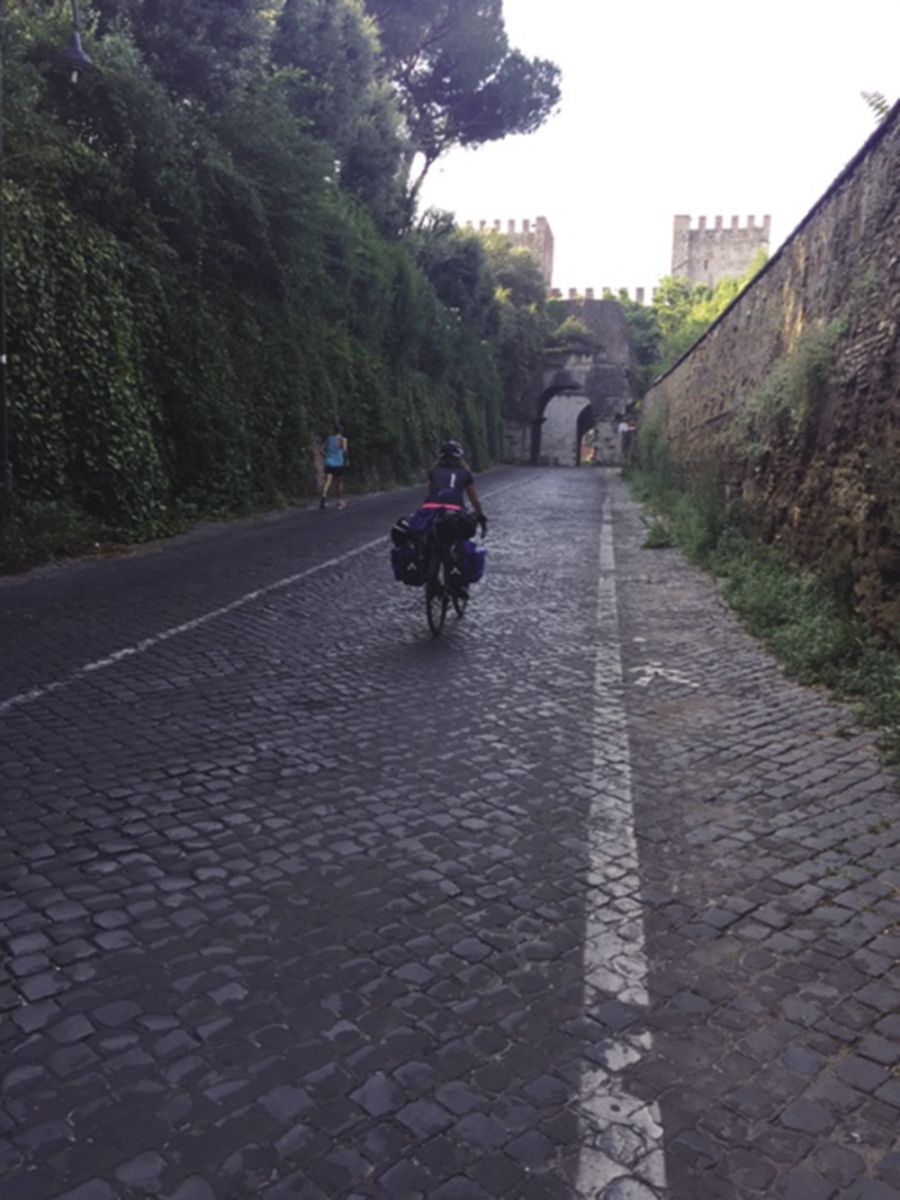 Orvieto is my third stop. There is so much riding uphill, but when you reach the top, the view is indescribable, and the descent is like a wonderful ride on a carousel. Orvieto is a beautiful town and its cathedral will enthrall you. My fourth stop is Civita Castellana. I am staying in Casa Giulia, a private apartment, and the owner is a very kind lady. She is a widow living with her disabled child, and her only source of income is this bed-and-breakfast which is insufficient to make a living. She also turned to the mayor to find a job with no results; instead, the visitor's tax that she needs to pay to the municipality is 10 euros per guest. While I'm washing, as usual, the clothes I used during the day, I think of Signora Giulia and how life can be so hard. While travelling, I see landscapes and hear stories that raise so much awareness.
My clothes are still wet, so I put them underneath the elastic bands that hold the rear bag of my bike and I'm off to reach the capital. My father always said to me: "All roads lead to Rome," but via Flaminia and via Salaria are prohibited for us poor bike riders. In any case, here I am, staying in Trastevere with a view of the city. The next day, strolling around the capital, I see the imposing Colosseum and the Imperial Forum, then beautiful Piazza Navona, but when I reach the Trevi fountain, it is so hot I almost want to imitate Anita Ekberg. Unfortunately, instead of Fellini it's a policeman who discourages me to do so.
I say goodbye to Rome and I begin riding towards my sixth stop, Sabaudia. I ride to the coast and when I see the sea, I've reached the campground. I put up my tent and then dive in the reinvigorating water. At 5:00 a.m. I wake up, I prepare my soluble cappuccino and, sipping it in the quiet of dawn, I enjoy this priceless peace. Then I'm ready to face my ride towards my seventh stop, Minturno. This time I am staying over some friends who welcome me with enthusiasm, buffalo mozzarella and admiration for the endeavour. I stay there for a day to enjoy the city, the sea and my friends. There are 110 km from Minturno to Pompei, initially country roads with herds of buffaloes and dairies. I cannot resist so I stop and buy mozzarella.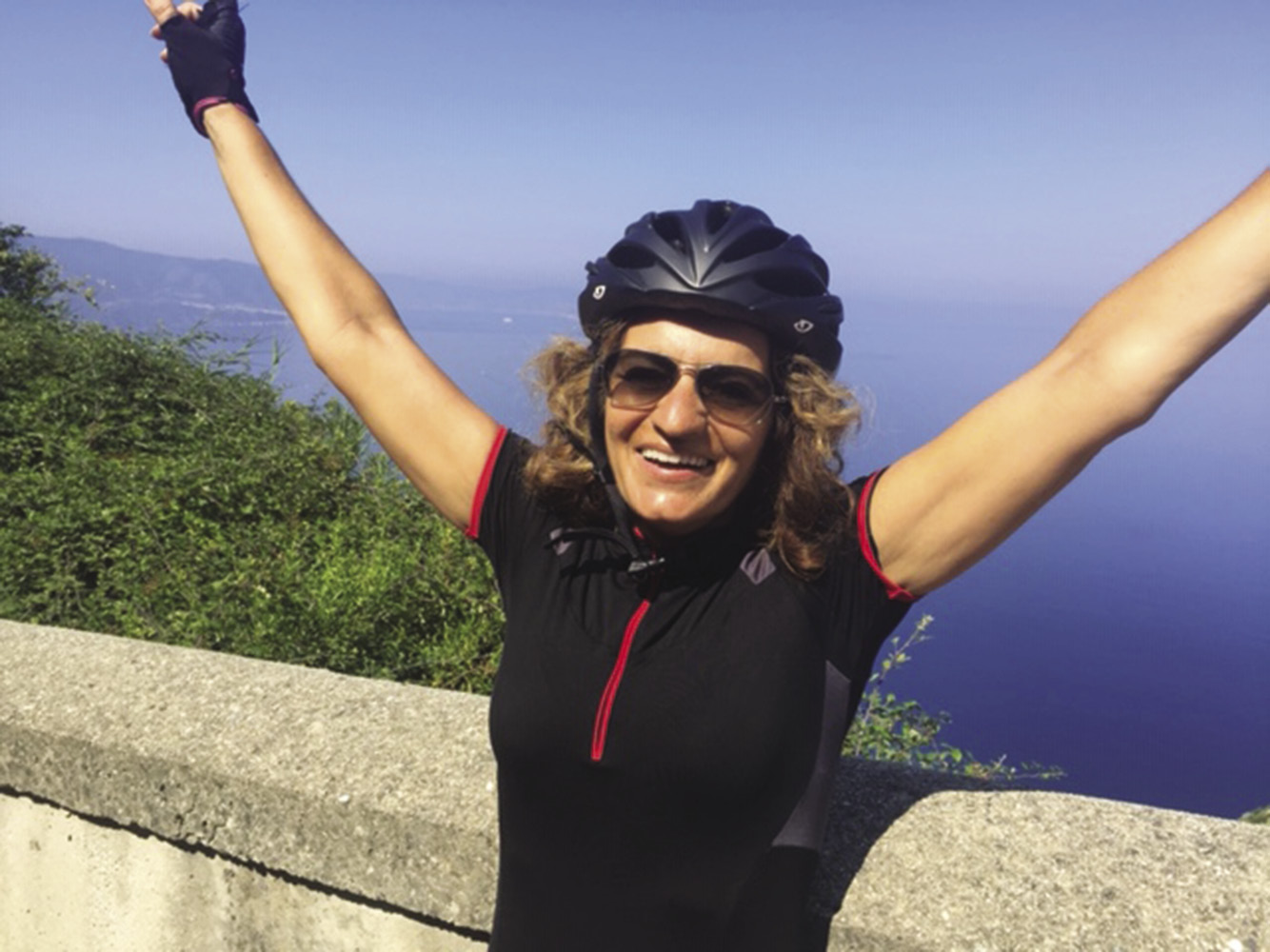 A man dressed in typical clothes asks me where I'm coming from. He asks me if I want to taste a fresh mozzarella, just now made. It is so good, it's ecstasy. I ask him how much I owe him, but he insists that it's a gift.
And finally, here is Naples, the city that has declared war to cyclists! Traffic regulations have not yet made it here: cars are just everywhere and have only one goal, "I'm first!" They all honk their horns. They honk to say hi. They honk to say they want to pass. They honk because they haven't done so for 10 seconds. As soon as I leave Naples, the police stops me... But how can this be? I risked my life with every pedal stroke and it's really me you're going to stop? Fortunately, they are just doing this out of curiosity, and they don't even ask me for my papers. They tell me to be careful and send me on my way. What a day!
On this road stretch, the sea is on my right keeping me company. At one point, a motorist comes up next to me, and shouts: "Under this sun, but why are you doing this?!" Good question! I do it because I enjoy it, because I see details of this beautiful country that would be impossible to capture in any other way. And also, pedalling clears my head of burdens filling it with new places, smells and colours. With these thoughts I reach Agropoli. I put up my tent, the sea embraces me. On August 2nd, I am ready to tackle the coast of Cilento.
The landscape is beautiful and the smell of pines mixed with iodine creates a healthy natural aerosol. Along the way I see so many fig trees. The temptation is strong, they are so good! I reach Ascea Marina. The campground owner assigns me a place practically on the beach. I anxiously wait for the sunset so that I can see the "green ray." It's an optical phenomenon that sometimes occurs just after sunset. A distinct green spot is briefly visible above the upper rim of the Sun's disk usually lasting no more than a second or two. I saw it! Beautiful! Happy, I fall asleep not knowing what awaits me the day after. I get up at 5:00 a.m. to discover the negative side of having my tent pitched on the sand if it rains: everything needs to be dried. Then begins a steep climb of 50 km, with up to 22% gradient which I tackle on foot pushing my bike. After the climb, I am about to enjoy the descent, but here comes the great flood, so I ride the last 25 km under the rain. Arriving in Sapri, I'm rewarded by my accommodation: a delightful residence with a porch and a rocking chair.
It is on August 4th that I reach the Calabrian coast opening up to me its "windows" overlooking the sea. Pedalling with the mountains on the left and the sea on the right is like having found the wonderland. Everywhere you look is gorgeous. After a journey of 1,365 km of hills steep enough to give you a heart attack, enjoying breathtaking views, downhill rides as fun as those of Luna Park, and discovering towns and cities, I arrive in Sicily! When I set foot on the coast in Alì Terme, I get a lump in my throat. I can't believe it, I really made it to Sicily. Pedalling along the east coast, passing through Mazzarò and Giardini-Naxos, here I am at the foot of Etna. I arrive in Catania and I visit the city.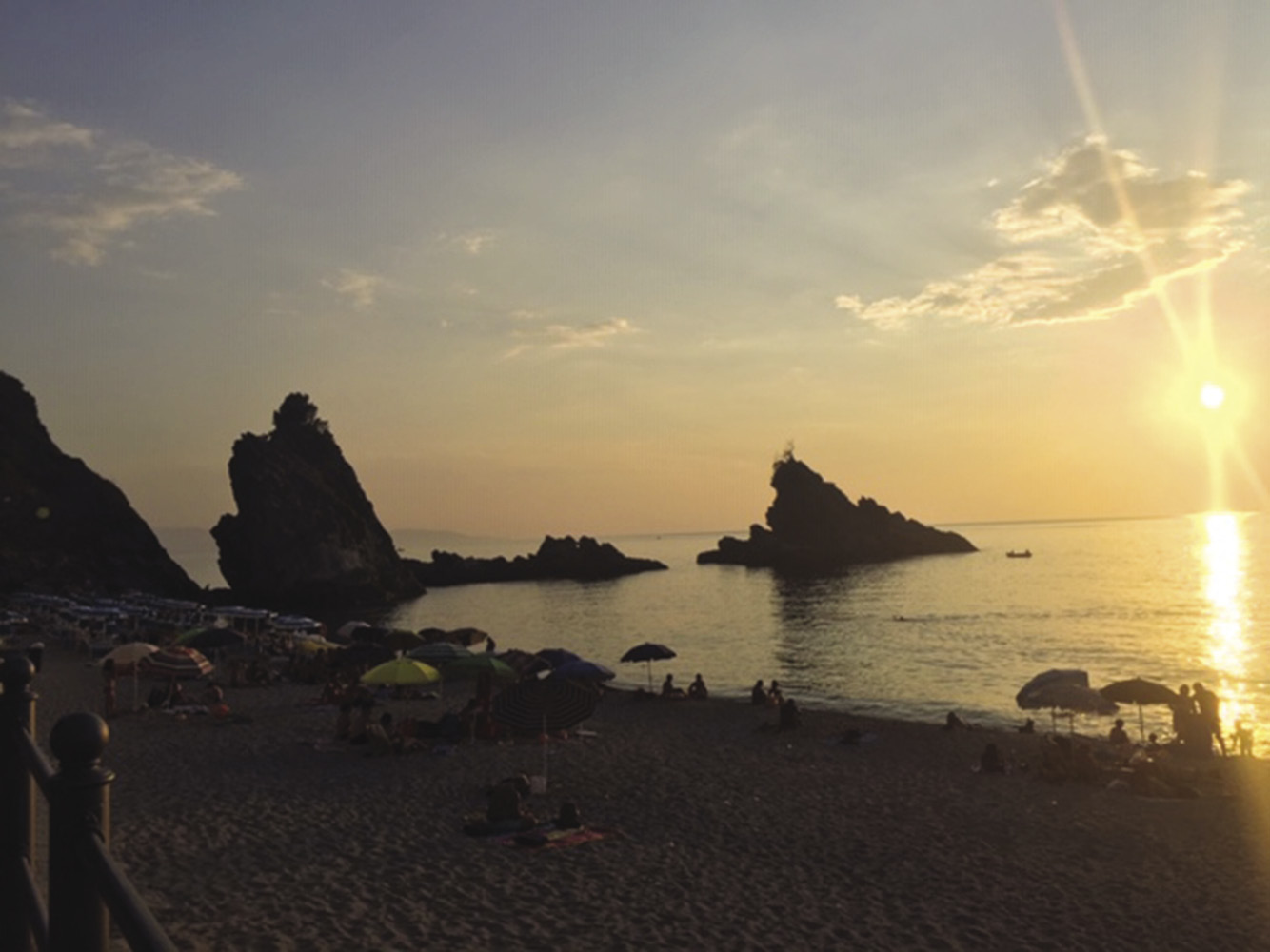 The bike path runs along the sea, which deserves to be seen at least once in one's lifetime. Towards Piazza Europa, there is an ice cream place where they make an absolutely delicious Sicilian granita. My next stop is in Syracuse: 100 km of an unforgettable ride. Everything happens. I accidentally arrive on the highway; my wheel slips into a manhole and I fly just like in Paperissima. Then every street I take ends up nowhere. After two hours of useless riding, without water and under the sun, I finally find a house where a very kind couple helps me quench my thirst and explains to me how to get out of this maze. So, I pedal during 40 km on an old abandoned motorway, where there is absolutely nothing, finally arriving in Syracuse I ride until I reach a campground with a swimming pool. The journey is also this, lying on a lounging chair near the pool, I contemplate the stars thinking that today they were close to me. On August 12th I reach the southernmost point of Italy, Portopalo di Capo Passero. Here the two seas meet and in the evening, at low tide, you can walk to the Island of Correnti. The beauty of the place is indescribable. I reached the goal of my journey with 1743 km of roads. I still have time ahead of me, and this land cannot let me go, so I decide to continue. I get up early and head towards Punta Braccetto. The first road stretch is in the open country and I find myself being chased by stray dogs. I had been advised to ignore them if I were to cross their path, but instinct prevailed over the advice so I pedalled as hard as I could.
Then the road resuming its place on the coast and offering such beauty dispels my fears. This is the land of Andrea Camilleri. This is where the Montalbano television series is filmed. A visit to Punta Secca, where the house of Montalbano is located and described by Camilleri, and a ride to Licata are a must. Thanks to the author these places have notoriety, becoming tourist destinations translating into economic opportunities, for a land as beautiful and as tormented. On August 17th, I arrive in Agrigento, the last stop, as I need to think about going back by train and a ferry. A bike trip is a 360° fulfilling experience. You're no longer the same person you were when you left, and you've understood the value of the essential.