There are artists who transform the sun into a yellow spot, but there are others who, thanks to their art and intelligence, transform a yellow spot into the sun (Pablo Picasso)
Cupid and Psyche, love or soul (psyche in Greek means breath, soul), unconsciousness or rationality? Can these two things coexist or should one take precedence over the other? Can there be confusion between them in the usual sense of losing one's bearings or in the etymological sense of con-fusion, as in merging together?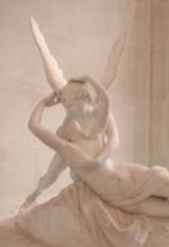 There are stages in our personal evolution where passion and instinct predominate, such as in early childhood and adolescence, but then one should come to terms with reality and society, and find the right balance. It is not always easy, indeed. Even in literature this topic has always been widely developed. A valiant character, Orlando the Paladin, according to different authors, was first a hero of integrity in the service of Charlemagne, then he fell in love with Angelica and began his struggle between reason and feeling, and eventually went mad when he learned that Angelica chose another.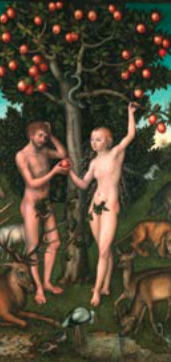 His friend Astolfo even makes a journey to the moon to reclaim the sanity of Orlando exceeding the earth's boundaries in a battle between heart and reason. Dante himself punishes in hell Paolo and Francesca, but with sentiments he understands them and turns them into doves, united even after death. Is it so difficult to find a balance between sensibility and sense?
TEST
1) You have to paint a picture of Adam and Eve; you put emphasis on
the Garden of Eden
the apple
Adam and Eve
2) You hear "high fidelity"; you think
a couple in love
a music store
"poor fools"
3) Your partner spends money like water
let's open separate accounts
you control expenses together
you threaten to break up
4) A colleague who is usually very punctual is very late; your first thought
darn, I have to do his work as well
he took time for himself
something happened to him
5) Life as a couple means
comfort
tiredness
growth
6) You have to give a book to a colleague whose taste you don't know; you choose
an adventure book
a best-selling book
the latest buzz about your work
7) During the great flood, how many animals were there on Noah's ark?
we don't know
we need to count the number of existing species and then multiply them by two because they were in pairs
none

8) The most famous lovers
Romeo and Juliet
Sandra Mondaini and Raimondo Vianello
Lancelot and Guinevere
9) In a fine store of Christmas items, you take
the topper
a garland
a ball
10) In a restaurant abroad, you choose
the local speciality
what is closest to your usual menu
the traditional dish of the country you are in
11) At a party, your partner has great success
you're pleased
you're appreciated as well
you feel jealous
12) Christmas Holidays
a trip in Northern countries
a trip in warm countries
at home pampering ourselves
13) Someone who hurt you years ago wants to meet you
you absolutely refuse
you think he'll want to apologize
you think there is some news
14) There are 27 donkeys, 20 with a load and 7 without, and they have to cross a raging river; they all die except 9. How many are left?
18
 7
 9
15) In a couple, a person loves camping and the other loves great luxury hotels
separate vacations
a year camping and the following year in a big hotel
a simple inn
SCORE
| | | | |
| --- | --- | --- | --- |
| Question | A | B | C |
| 1) | 2 | 1 | 3 |
| 2) | 1 | 3 | 2 |
| 3) | 2 | 3 | 1 |
| 4) | 1 | 2 | 3 |
| 5) | 1 | 2 | 3 |
| 6) | 2 | 1 | 3 |
| 7) | 1 | 2 | 3 |
| 8) | 3 | 1 | 2 |
| 9) | 3 | 2 | 1 |
| 10) | 1 | 3 | 2 |
| 11) | 3 | 2 | 1 |
| 12) | 2 | 3 | 1 |
| 13) | 1 | 3 | 2 |
| 14) | 2 | 1 | 3 |
| 15) | 1 | 2 | 3 |

EXPLANATIONS
FROM 45 TO 36 POINTS:
"I cannot live without brain-work. What else is there to live for?" (Arthur Conan Doyle)
This is a quote by the author of Sherlock Holmes, an expert in crime-solving thanks to his well-known reasoning and logical assumptions. He would not let himself be "contaminated" by feelings. You want to follow in his footsteps? Life is also made up of feelings for which there is apparently no reason; they simply are, and it can be nice to give them a bit of extra space.
FROM 35 TO 25 POINTS:
"A good head and good heart are always a formidable combination." (Nelson Mandela)
This is just what you are because you are convinced in the balance between mind and feelings, and you find pleasure in that. You know that it is sometimes difficult to find the right balance or to understand when you can let go and when you have to be more rigorous even if you would prefer not to. However, you also want to succeed.
FROM 24 TO 15 POINTS:
"The heart has its reasons which reason cannot know." (Pascal)
Passions are beautiful, they enrich our experience but when they take over, we are no longer leading our own lives, we are letting ourselves be carried away, at times running the risk of drifting off. There are positive aspects to reason; why not discover or appreciate them.