The tactile pad is an ingenious tool in its simplicity: a mark, stroke, drawing or writing traced on it is immediately perceived in a tactile way.
Marco Fossati, teacher of physical education, specialist in technology for the blind and visually impaired I.Ri.Fo.R.
The statement about the fact that we never stop learning is certainly full of wisdom and allows me to grow in my daily professional activity. I have learned a lot over the years from people living with vision loss with whom I have had the pleasure of experiencing educational and rehabilitative opportunities. Innovation and adopting a research approach definitely bears good fruit. And I would like to describe here how the work with a visually impaired older lady with a background as an artist made it possible to rediscover, re-evaluate, and use the well-known tool of the tactile pad in an innovative way. The tactile pad is an ingenious tool in its simplicity. With the ability to deform a plastic sheet resting on the gummy surface, it makes it possible to imprint a mark, stroke, drawing or writing on a plastic sheet and immediately feel the effect in a tactile way. There are two models: an actual rigid pad with interchangeable sheets and one very similar to a sketchbook. What is special about it, especially for those who have perception of writing and drawing, that is, of leaving part ink, part colour or part graphite on a sheet of paper, is that it allows them to re-enact the same kind of operation. It allows drawing subjects to reproduce by sketching with the same grapho-motor coordination patterns as previously acquired. Rather, it makes sure that what was the ingrained modes of expression in life as a sighted person can be repeated while still obtaining a tactile meaning consonant with the current condition of blindness or low vision. In the current historical moment witnessing the growth of the elderly population with the consequent rise in age-related maculopathies, these operational modalities related to the tactile pad can assume relevance.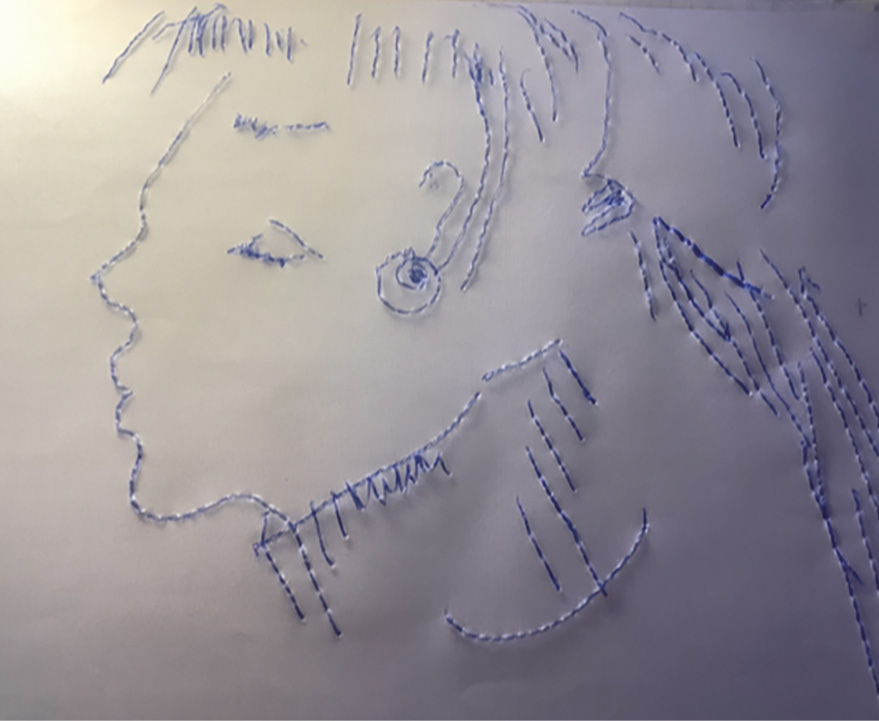 Beyond that, the gesture of drawing and the perceptible tactile feedback was the key to pleasantly engaging the patient in a dimension of personal growth. Of course, I was not alone in this work. She had been regularly attending, for quite some time, the wonderful activities held at the Anteros Museum, of the Francesco Cavazza of Bologna, by Dr. Secchi and her collaborators. These are very important feelings and moments of growth for the learner, who recounted a rare and pleasant sense of well-being. We had the idea to research older artistic productions made in her youth, describe them and reproduce them on the tactile pad. As well as venturing into the reproduction of famous paintings, read at the Anteros Museum, with a good likeness but even more with an awareness of the possible autonomous production. An activity carried out in a personal way and perfectly managed independently, so much so that it is carried out at different times of the day to occupy significant spaces of time and interest. It is the patient herself who enthusiastically reported these pleasant emotions. 
These motivational drives also enabled us to undertake a series of functional activities on the use of touch and haptic sensations in general, enhancing the possibility of having a range of vicarious sensations to be used in parallel with the residual sight. In conclusion, we can affirm how experimenting with an older tool combined with a series of prior activities, including pleasantly artistic ones, proves significant — even in adults and the elderly — in increasing personal autonomy and general daily well-being.