Opera singer celebrated throughout Europe for her beautiful voice, she was a source of pride for Bologna and Italian art in general
The world of 10th-century Italian opera was a wonderful world. Great masterpieces (The Barber of Seville or Norma, The Elixir of Love or Il Trovatore) and their authors (Rossini, Bellini, Donizetti and Verdi) came to be known by the public thanks to performers who, with tireless energy and travels between cities and countries on every continent ensured, in a world without mass media, the spread and popularity of these works and of their characters. Famous and acclaimed as our movie and pop stars, streets and monuments have been named in their honour.
This is the story of an opera singer from Bologna, Adelaide Borghi Mamo, famous throughout Europe and whose memory today is linked to Bologna. An avenue was named after her as well as a beautiful monument completed in 1894 by sculptor Enrico Barbieri and located in one of the most evocative venue of the Certosa in Bologna, the Gallery of Angels.
Born in Bologna in 1829, Adelaide Borghi was encouraged by famous opera signers such as Donzelli and Giuditta Pasta to follow her path as an opera singer. She made her debut in 1846 in Urbino, in Mercadante. From there, she began a career throughout Europe. In Malta, she met Spanish tenor Miguel Mamo whom she married, combining her surname to that of her husband. Then, from Naples' Teatro di San Carlo to the Vienna opera at the Scala di Milano, followed a decade of successes where authors such as Petrella and Braga, Rossi and Pacini wrote works specially for her wonderful and wide-range voice extending from the acute notes of the soprano leggero to the depth of a powerful contralto, encompassing an equal tone throughout the various registers. Her ample range and stage presence allowed her to present a repertoire of works by Rossini (with whom she had bonds of friendship) to those of Gounod, from masterpieces by Mozart to scores by Meyerbeer and Halevy.
.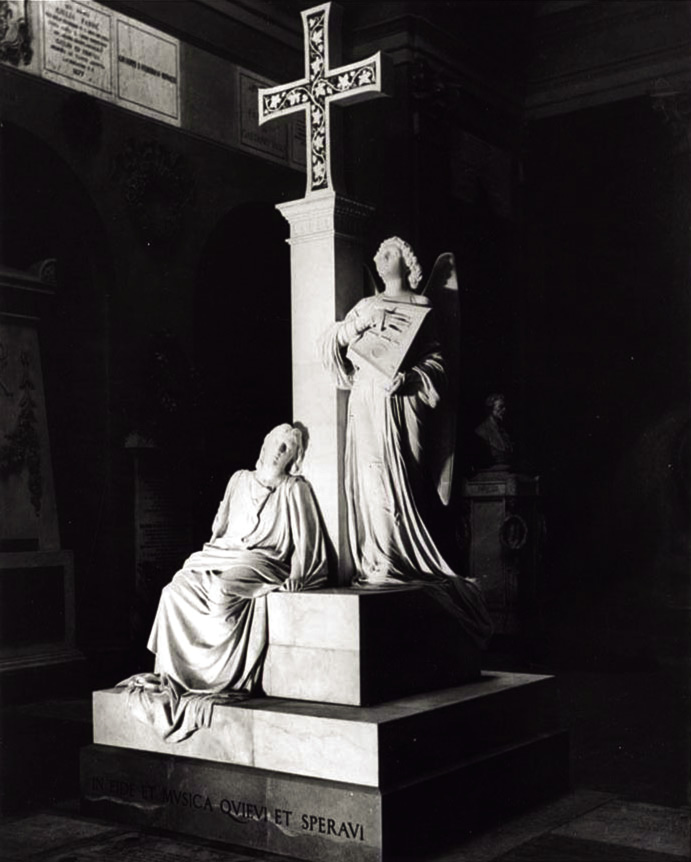 Drawing on this experience and these successes, Borghi Mamo was invited to Paris where, according to a Milan newspaper of the time, the renowned actress singer was taken for a while from the Italian stages and art to pursue a successful career. There she befriended great leading ladies of the time, such as Erminia Frezzolini and Giulia Grisi. For over a decade she played leading parts not only at the Italian Theatre (she was Azucena in the first performance of Verdi's Il Trovatore in the French capital). Her skills and her varied and difficult repertoire won the hearts of Parisians, even at the opera, a venue usually reserved for French interpreters, where she also artfully gained success with works of less value.
In a correspondence from Paris it was said that as always, Adelaide Borghi Mamo, the famous actress-singer contralto, made the delights of the public at the opera for several years as she did for a long time at the Italian theatre. Though sometimes music is not appropriate for the quality of the art and the voice of the lady, she, new Prometheus, nevertheless infused life and movement to dormant music and makes a miracle of arousing effect where it is most daunting and monotonous and where style, broken, contorted and trite, challenged the voices and expertise of singers. Mrs. Borghi Mamo received spontaneous and loud applause.
Then on to London, at Her Majesty's Theatre in Favorita by Donizetti, which went around Europe, and from London to Bologna's Teatro Comunale and La Scala in Milan. And on to Madrid, Genoa, Venice, and again Paris (in The Force of Destiny by Verdi), remaining on stage until 1880, when she decided to devote herself to teaching, first in Florence then in Bologna.
She lived there until her death in 1901 and her home, the Palazzo Lupari, became from that moment an important centre of cultural reference in the city until the beginning of the century.