A visit to the new resto-bar designed for persons who are deaf and blind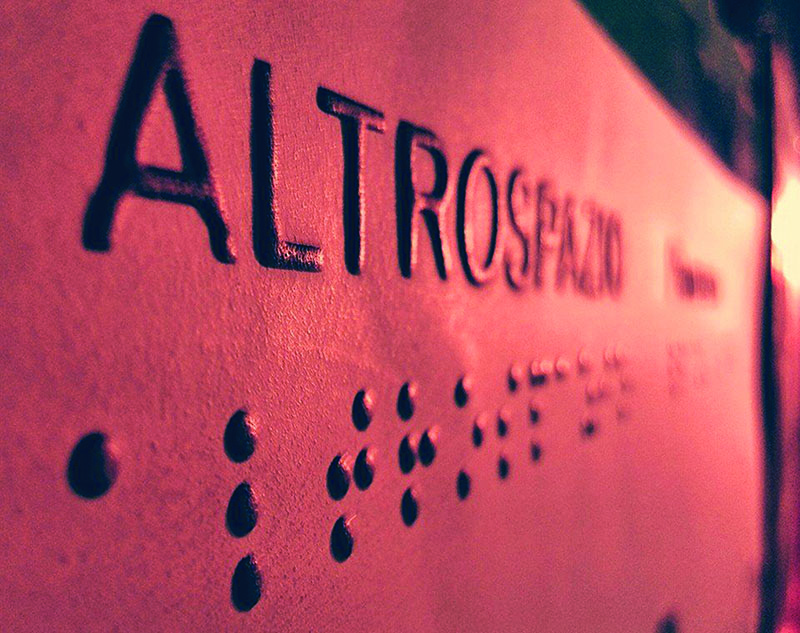 It is called Altro Spazio (Other Place). It just opened and it is already the local trend in Bologna.
It is the first club in Italy for deaf and blind people, after the opening of the Senza Nome (Nameless), the first bar in Italy managed by deaf people. It marks another milestone toward new forms of encounter and dialogue. For the close to ten thousand deaf-blind people in our country, it is never easy communicating with the world or finding places where they can express themselves in complete freedom and relaxation. Altro spazio is a restaurant and jazz club (it is not a coincidence that it is within the walls of the historic Chet Baker on Via Polese, where the best international musicians played). It provides tailor-made services for blind and deaf-blind people and offers excellent food and wine as well as a great cultural experience. The resto-bar offers a tactile map of its venue as well as menus in Braille. There is a bulletin board with pre-printed orders and the possibility to order your drinks and food in sign language. Anyone can take courses to learn Italian Sign Language as well as well as the Malossi method. In times where communication is synonym of high technology, resuming physical contact through tactile communication systems (like the Malossi method) or movement (like the tactile sign language) is a truly revolutionary event. Instead of touching keys, we can, thanks to these languages, learn how to establish a more intimate contact with others and even with ourselves. At Altro Spazio, it is possible to do it all sitting together in front of a great soufflé or a perfect martini.
The idea is to create a bar for all with a sensitivity toward people who have special needs. It is not true, as some have written, that as of today even blind people can have a beer, because of course, that has always been possible. With all the bars that are out there. If anything, today there is a place where different realities can reach out to each other, where anything can happen, where maybe we can learn to understand and get to really know new people, where people can communicate with each other. Well, that's what makes the difference.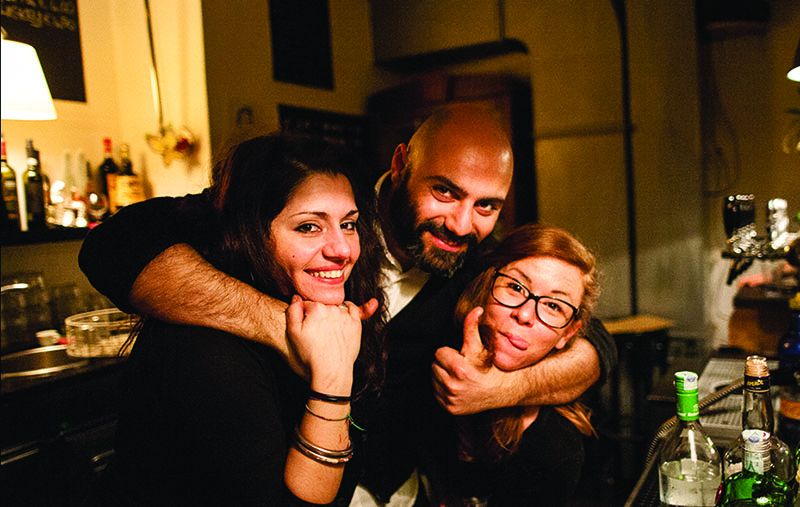 So says Nunzia Vannuccini, an educator before being a bartender, she is President of the cultural association Farm which already manages Senza Nome. – I have many Deaf friends and, living in the centre of Bologna, close to both the Cavazza Institute and the Institute for the deaf on Via della Braina, I always observed with attention these people, their autonomy and their difficulties as well. And so this is what we do at the bar. Every day we learn something new, you just have to figure out who is next to you to realize the little things that have such importance. For example, the layout of tables should never be changed, so that everyone can move easily around finding their own place, because in the end it is true that when we go out somewhere we like to feel at home. Nunzia is right, and Altro Spazio fully achieves its objectives. The place is cozy and warm, it smells great and the atmosphere is charged with care and consideration towards all its customers. In addition, in the near future, with the collaboration of Girobussola, an association that organizes multi-sensory tours and sensory tactile paths in the city for people with visual disabilities (www.girobussola. org), there is a plan to have labs, workshops, and new services such as a space for guide dogs, tactile games like chess and a real library of audiobooks available to customers. Altro Spazio also represents a true innovation even at the international level. In fact, if, in the world, there are numerous places that fall into the category of the Dialogue or Tasting in the Dark, which are places where you re-create the sensory experience of blindness to raise awareness and to meet people without distinction between those who do see and those who don't, there are few places that promote employment opportunities and meeting places for deaf and blind people.
From the numerous American Blind Cafés (in English, blind date is our appuntamento al buio, but it means something else) to the French chain Dans le Noir, which founded a real empire with more than one million visitors every year all over the world, from the Dine in the Dark restaurant in Singapore to the Café Potme in Prague which, to raise awareness, operates in complete darkness. Even bartenders and waiters are blind. All these places are transforming the multisensory experience into a concept capable of opening people's mind and sensibility, certainly, but also of making a business and a fashion statement that makes one say "Dark is the new black", as designers say every new season. In this market, Altro Spazio positions itself as a place for everyone and also as a cultural centre, and its range of courses and workshops is rich and constantly growing. They range from salsa and African dance for persons who are deaf to awareness of Braille, from music therapy to sessions about dreams because, perhaps, this is probably where we must begin.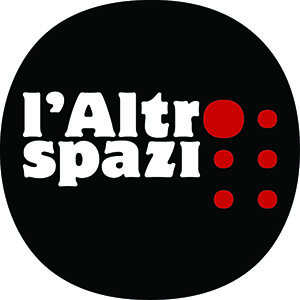 From the splendour that unites us: mute, deaf, blind, and the others who may see and hear and speak without, maybe, having nothing more to say. So, since they say that one can drink too much, but that one does not drink enough, it is also true that one does not dream enough, So, what better place is there to drink, dream, and spend time together really communicating. As Nunzia says, "it takes very little to be happy".