In June 2011, two events took place to celebrate the 130th anniversary of the foundation of the Institute for the Blind Francesco Cavazza of Bologna and the 90th anniversary of the foundation of the National Federation of Institutions for the Blind.
From June 21st to the 25th, the sculpture entitled "Christ Revealed" by blind sculptor Felice Tagliaferri was exhibited at the Institute, while on June 24th and 25th took place the celebrations.
On Friday the 24th, the guests at the Federation's assembly visited the Institution's installations and services learning about the numerous initiatives and activities that the Institute is able to develop thanks to the collaboration and contributions of so many: the family support service for the integration of blind and visually impaired children and youth from the Emilia-Romagna Region; the low vision centre; the optical aids centre, and training and information activities available to the Institute's users; Anteros, the tactile museum of ancient and modern art; CISAD, the experimental centre of educational tools; the research and experimental technology centre.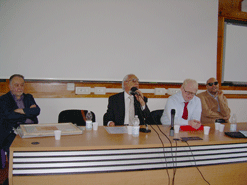 On the occasion of the Federation's assembly, National President Rodolfo Masto, besides commemorating the anniversary of the Federation, awarded with a medal ex-President Professor Silvestro Banchetti who was at the head of the Federation during 10 years in the 90s. The reward was an opportunity for Professor Banchetti to recall that he graduated from the University of Bologna and that he was once a student of the Istituto Cavazza. It also must be said that Professor Banchetti taught in special education at the University of Bologna.
For many years, he also was a voice within the Italian Blind Union and the National Federation of Institutions for the Blind on the limits and gaps of the process of full integration of people living with vision loss in schools and in society.
In the evening of the 24th, hosts, partners of the Institute, staff and representatives of the National Federation of Institutions for the Blind all reunited in a ceremonial dinner organized by the Institute, thanks to the availability and support of Count Gualtiero Cavazza Isolani. The event took place in the Rocca di Minerbio owned by the Cavazza Isolani family where it was also possible to visit the frescoes of paintor Amico Aspertini. The guests of the evening and the members of the Board of Directors of the Istituto Cavazza wish to express their most sincere gratitude to the representatives of the Cavazza Isolani family who actively worked with us to organize the evening and the broader initiative.
Finally, on Saturday, June 25th, in the great hall of the Department of Education of the University of Bologna, took place a public meeting for the official celebration of the anniversaries as part of the course given by Professor Andrea Canevaro and entitled Education of the Blind and Visually Impaired: From the Past to the Future. On that occasion, Istituto Cavazza's Director Mario Barbuto pronounced the opening and closing remarks. Other speakers were present as well: Matteo Lepore, representing the Mayor of Bologna Virginio Merola, the President the Istituto Cavazza Pier Michele Borra, the President of the National Federation of Institutions for the Blind Rodolfo Masto, and the National President of the Italian Blind Union Tommaso Daniele, to commemorate the anniversaries but also to present the strategies and initiatives the Istituto Cavazza relating to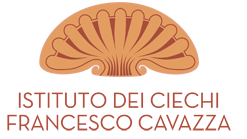 the Federation and Union intend to continue developing even in this complex and delicate period we are living in. During his lecture, Andrea Canevaro spoke of the important outcomes achieved in the past years relating to the inclusion and integration of persons with disabilities, and particularly expressed the importance to continue the efforts
research and updating services and activities contributing to the full access of all to education, work and society. The event was broadcasted directly on Radio Oltre, the Institute's Web radio. To all participants in the event, we wish to express our appreciation for their attention and contribution, particular thanks to Professor Canevaro,